At the occasion of the 60th anniversary of the Fifth Republic, the World Centre for Peace, Liberties and Human Rights presents the exhibition « Nous Présidents – 60 ans de Ve République » (« We Presidents – 60 years of the Fifth Republic« ).
As the most important exhibition in France devoted to the Fifth Republic, the exhibition « Nous Présidents – 60 ans de Ve République » is placed under the High Patronage of Mr Emmanuel Macron, President of the French Republic.
Go behind
the scenes of power!

Unique and new
in France
With 600 objects (including more than 400 unprecedented objects), 250 posters, 70 press cartoons, videos, …, the exhibition « Nous Présidents – 60 ans de Ve République » takes the visitor behind the scenes and the history of the Fifth Republic, from its birth to the exercise of power, including the presidential elections since 1965 and the formation of the law.
Partnerships with the National Assembly, the Senate, the Presidency of the Republic and the Mobilier National have made it possible to faithfully recreate the scenery so that visitors can enter the Elysée, speak at the Assembly or sit in the Senate Chamber.
From de Gaulle to Emmanuel Macron, the action and history of each President is detailed, beginning with his election.

For the first time in France, more than 400 objects offered to Nicolas SARKOZY and François HOLLANDE during their mandates are on display for the public. Sometimes there are funny ones, like an anti-wind tie, solemn ones, like a shell fired during Nicolas SARKOZY's investiture, emblematic ones like the Olympic flame of Rio or historical and cultural objects. All these exceptional items are the building blocks of our history and allow everyone to better understand the functioning of power.
More than 600 objects from
more than 130 countries

250 posters
and 70 press cartoons
Each stage of the exhibition is designed to allow visitors to get behind the scenes and discover the secrets of our Institutions and to be able to immortalize these moments with Selfies and Photos.
An essential visit for everyone.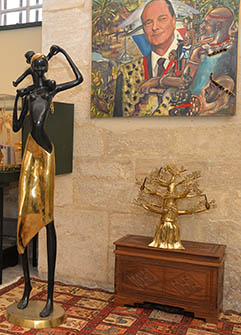 To follow the news about our exhibition:
Find daily previews about the objects presented in the exhibition in this news feed, as well as the latest news on the preparation of the exhibition, information from the exhibition partners and, more broadly, the latest news on the exhibition:
https://www.facebook.com/Nous-Présidents-60-ans-de-Ve-république-334319523719830/
A space for discussion and exchange, open to everyone, in addition to the exhibition, to fuel the debate about the Fifth Republic, its constitutional aspects, its functioning, but also all the subjects of legislative, daily and public life:
https://www.facebook.com/LArrêt-Public-394167297707941/
Visitors' opinions
Practical information:
Exhibition open every day from 10am to 6pm, from February to October 2019
Adult entrance fee: 5 €
Pedagogical support for school visits
Photos and Videos from the exhibition: